Microbiology - The New Accelerating Scope In The Market
---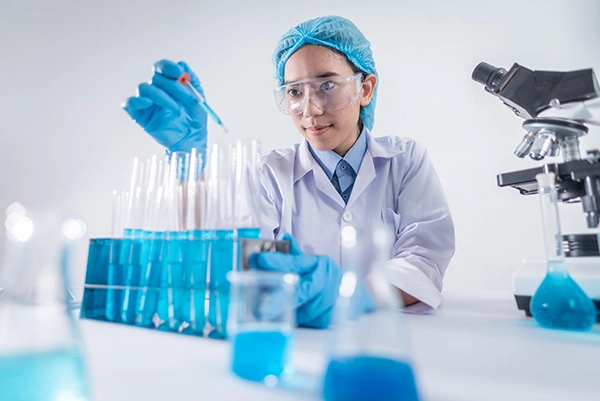 Various career options are booming today due to technological advancements, information circulation, and open opportunities. Less-known fields, under-mined careers, and new horizons have been rising from the shadows due to growing demand in particular sectors.

One of them is microbiology and this is a sector considered as one of the aspiring courses after 12th. BSc Microbiology is chosen by students who are eager to learn about microorganisms and their existence. Isn't it engaging to learn about the environment and other aspects that serve your eagerness concerning the safety and harm it causes to the world?

Cut to - The COVID-19 impacted the world and the general public wasn't aware of the visuals or anything regarding the virus. Only microbiologists having knowledge of those viruses or bacteria can educate about those elements after viewing the samples. Microbiologists are people who thoroughly study the immediate impact of bacteria and viruses through courses like BSc Microbiology.

Their work environment like?

A person who specializes in this field is known as a microbiologist. They secure a degree of Master of Science in microbiology. They are scientists who study organisms and infectious agents that cannot be seen with bare eyes. They are specialists studying the interaction of microorganisms with humans and other organisms that exist and affect our ecosystem. These professionals are also responsible for checking whether the food eatables and immediate environment are safe for consumption or not. Additionally, they are accountable for developing green technologies and tracking the roles of microbes concerning climatic changes.
Students who complete BSc Microbiology, have a lot of opportunities and can work in laboratories, the food industry, the beverage industry, and many other areas. People belonging to this field consider regular work schedules. This field allows students to choose from a wide array of options.

What do these professionals do on an everyday basis?
People who have acquired a degree in this field have a routine similar to other professionals.
Their typical work includes identifying pathogens, tracking their range of environment, and developing new research. Further accompanied by working on vaccines, testing samples, and constantly researching the methods that help to prevent the spread of a disorder. Some other tasks that they perform are collecting samples from different types of environments, producing reports, advising external bodies, and looking after the quality control in the manufacturing unit.

They conduct experiments to establish data, concerning different techniques. The researches are conducted with the help of powerful electron microscopes and special computer software is used to record the data. One must possess the ability to work independently as well as in huge research teams.

Eligibility
A student should consider subjects like Physics, Chemistry, and Biology in Class 12.
Your score needs to be at least 50%.
Usually, there is no entrance exam if you are applying for UG-level courses in microbiology or biology.
The subject combination of Science with Biology proves to be beneficial if you wish to apply for this degree.
To take up UG level courses .i.e. BSc Microbiology, students need to pass in 12th with a minimum of 50% marks.
To take up M.Sc or BSc Microbiology/Biology; Botany, Zoology becomes compulsory.
To take up Ph.D. or M.Phil. course in this field and associated areas, ensuring you have a Master's degree in a relevant field is necessary.



If you wish to apply for BSC Microbiology, you can consider ITM University, Raipur. You can go through their website to check the entrance exam criteria. Depending upon the institute, the entrance exam criteria differ.

Types of Roles For a student who has acquired a degree in this field, diverse career options are available. Depending upon the undergraduate and post-graduate degrees, the below-mentioned roles are available. Food technologist Food technologists are the ones who need to ensure the food catered to the consumer is safe for consumption. They inspect and supervise the work of food business operators, and manufacturers who create food products. A food technologist makes sure the products are safe for people. This includes beverage inspections as well. They study the chemical and biological composition of food and mark its longevity of consumption (i.e. expiry date), special care, etc.

Environmental microbiologist The major responsibility of these professionals is to study the viruses, fungi, algae, various parasites, etc. that exist in the environment. This research helps categorize their harmful and useful effects, sanitization measures, water purification standards, hazardous waste bioremediation, etc.

Pharmacologist Pharmacologists are the ones who have a specialized field of research such as toxicology, pharmacokiencts, etc. So aspiring students can choose pharmacology as one subject while they opt for Ph.D. The role of a pharmacologist includes performing experimental medicine research, medicine policy, and management, poison management, formulating procedures and guidelines regarding the storage of medication, etc.

Research assistants Master of Science in Microbiology helps the degree holder to secure a job as a research assistant as well. The person holding this position conducts small research independently as well as assists bigger research assignments. They make reports pre and post experiments, analyze data, classify various organisms, develop new drugs, etc.

Industrial microbiologist These professionals consider engineering and scientific principles. This study is done concerning the process of materials of various organisms, animal cells, and plans to create an impactful product. They provide detailed reports concerning various products and their consumption protocols as well.

Biomedical scientists People acquiring a Master of Science in microbiology degrees can apply for biomedical scientists. They consider scientific and laboratory tests to support the diagnosis and treatment for a disorder. These include analyzing blood, urine, skin tissue, body fluid samples using various computer-aided procedures to generate reports. They work in universities, blood banks, and private hospitals.

Available opportunities for degree holders of this field

People holding this degree have the mentioned opportunities and one can stick to domains such as:
Chemical industry
Research opportunities
Laboratories
Private hospitals
Agriculture Department
Food manufacturing factory
Beverage manufacturing factory
Universities
Pharmaceutical industries
Even government sectors have positions for the students.

Reputed companies to work with after your degree
While there are modest companies having positions for BSc holders, some reputed companies to provide opportunities for work.

Mascot International
Alpha-Pharma Healthcare India Pvt Ltd
Pfizer
The Indian Hotels Company Ltd
Krauter Healthcare Ltd
Lakshmi Life Sciences Ltd
Siron Technology Pvt. Ltd

Pros and Cons of being a degree holder of this area of study Similar to coin, there are two sides to studying this branch, just like every other profession. Everything comes with benefits and adjustments after all. While you choose a career, you need to sacrifice certain things for the passion towards your job and on the other hand celebrate the perks of it too.
Pros
Flexible working conditions
Boon due to varied specializations
Technological advancements
Demand for such professionals
Cons
Possible exposure to hazardous materials
The highly competitive job market
When you get your degree from ITM for BSc in microbiology in Raipur, you get the following benefits -
Placement drives for final year students.
Industrial-level training and exposure.
Courses designed by experienced academicians.
Industrial visits by professional guest lecturers.
A vast network of 15k+ alumni for future career engagements.
Internship projects and training programs.
The chance to experience an international pedestal through ITM Group's academic collaborations.



BSc in microbiology in Raipur is therefore considered to be one of the best courses after 12th.
If you wish to enroll for a BSc in microbiology in Raipur, you can easily get in touch with ITM UNiversity's Admission team to understand the formalities.
Need help
choosing a Program?
Talk to us about which program best suits your professional career.
Get Brochure
Enquire Now
---
Enquire Now